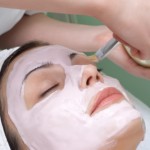 Since I started this blog, people have been asking me questions about keeping skin young, and one of the most popular questions is about the chemical skin peel.
Chemical skin peels are not new, in fact they've been available for a few years. There are different types of peel and it can be confusing to sort them all out. But as far as I'm concerned, the most important thing is that if you're going to have a chemical skin peel, you need a professional to do it. Don't try any of these do-it-yourself-at-home products. Why not?
First, because very often they don't have enough of the active ingredient in them to do what you expect a chemical skin peel to do. That's true of many drugstore cosmetics and skin care creams, and it's true of chemical skin peels too. So you might think you are saving money, but if it doesn't work you may think peels in general don't work and give up, whereas having a proper skin peel treatment in a spa could well work for you.
The other reason not to do chemical skin peels at home is that you can damage your skin. Skin is a delicate organ, after all, and it doesn't like rough treatment — especially for those of us who are over fifty. We need to treat it carefully, and that means putting it in the hands of professionals for complex treatments like chemical skin peels.
I had a glycolic skin peel a few months ago, and I must say I did see a difference in how my skin looked and felt. But the spa professional who did the treatment did tell me I would need to do it again in a couple of months, and I think it's time. Chemical skin peels are not permanent solutions, but a series of them can be a definite bonus to your skin care system.
The best way to start might be to ask an esthetician about the various types of chemical skin peel to help you decide which is best for you. If you learn anything you think would be valuable to other readers, please do leave a comment.